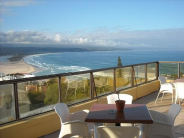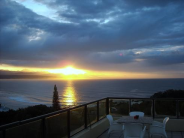 Your comfort in the heart of the garden route
One of a kind Penthouse backpackers - The Plett Backpacker's penthouse is situated in the Western Cape's Plettenberg Bay's scenic Town centre. As with any South African coastal town it is full of interesting shops, restaurants and nightspots which are just steps away. View the amazing Keurboom's Lagoon, Indian Ocean and the Tsitsikamma Mountain Range from our location.
EXPERIENCE PLETTENBERG BAY
We have a gorgeous town. The links on the right will convince you. Surfers and nature lovers must have heard of South Africa's one and only Plettenberg Bay. So join us on our deck in the morning to admire the 270 degree views of the Plettenberg Bay coastline which we call Plett for short. The Plettenberg Bay area enjoys some of the best weather in the Southern hemisphere. It has miles and miles of unspoilt beaches where you can surf, sunbath or watch our local inhabitants the dolphins and whales at play. This alone is worth the trip. We have a well run activity centre to assist and handle any booking requirements you may have. After a fun-filled day as a guest at Plett Backpackers unwind with a Traditional South African beer, sundowners and Braai. The Braai is a South African BBQ where our exceptional South African meat is cooked over the glowing embers of a fire. We are sure you will enjoy our deck with another view of the residents at play in the bay, and of course our millionaires row view. This Backpackers is situated in the heart of some of the most expensive real estate in the country.